YouTube to MP3 Converter for PC and Mac
Convert YouTube playlists and channels to MP3
Download YouTube audio and video in HD quality
Batch converting feature
Download controls to pause, resume, and cancel anytime
Mac and PC supported. Completely safe and virus-free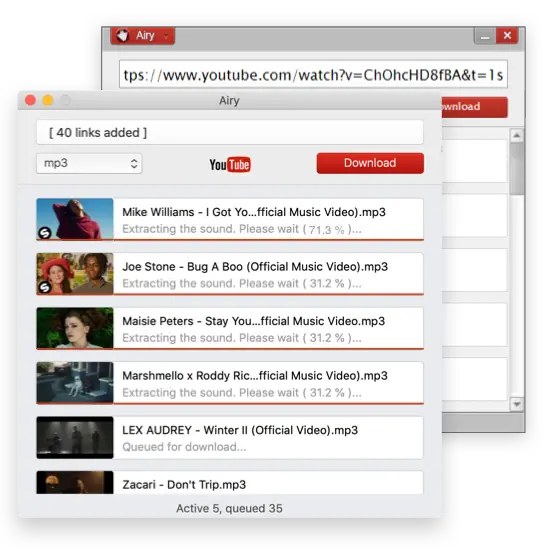 Airy YouTube Downloader
Convert YouTube to MP3 with Convenience
If you've been looking for a reliable and simple way to download YouTube MP3 to your Mac, here it is. Airy is simply the best YouTube MP3 converter on the market today. It's straightforward and consistently superb. Fetch videos in just a few clicks, in any format and resolution you desire. Airy can download entire playlists, too. And if you ever find yourself needing just the audio from a YouTube video, simply use Airy to extract and download YouTube audio without having to download the video as well.

How to Convert YouTube to MP3 Without Limits
Now, what good would all these great features be to you if you were restricted by download limits? Luckily for you - unlike other similar apps - this YouTube to MP3 converter imposes no such restrictions. So you're free to convert YouTube to MP3 all day and night if you choose, without worrying about being capped.

Download YouTube Audio Around Your Time
No longer do you need to be tied to your Mac while downloading videos. Airy's download controls let you work around your schedule, not the other way around. Our YouTube MP3 converter can pause, resume, and cancel easily. So when you need a break or want to pick up where you left off, you can.

One-Click Downloads - Playlists, Channels, and Categories
Maybe you have your own saved video collection on YouTube and you'd like to convert YouTube playlist to MP3. And sometimes you need to download multiple videos at the same time. This YouTube to MP3 converter can download full playlists, channels, and even categories in one shot. How cool is that?

Unrestricted Downloading Length
YouTube doesn't place time limits on videos, so why should you? Unfortunately, most YouTube downloading services fall short here. But whether your video is minutes or hours long, Airy gives you complete freedom to download YouTube MP3. With our YouTube audio downloader, track size and duration don't matter.

Built-In Browser Integration
What's better than being able to convert YouTube to MP3 you want in only 3 steps? Doing it in one, of course! With the built-in browser integration, Airy lets you download with just one click, as you browse. No need to copy and paste. It works on Chrome, Safari, Firefox, and Opera.

Full Access-Pass
Age-restricted and private videos are no problem for Airy, either. With this YouTube MP3 converter app, all you need to do is log into your YouTube account and you're good to go. No need to verify details and jump through hoops to get download access.
How to Convert YouTube to MP3 with Airy
A simple and neat YouTube to MP3 converter which can download videos up to 8K resolution. Simply select formats you want to save videos in, choose the desired resolution and enjoy. Airy can download whole YouTube playlists and channels.
1
Choose your YouTube video.
Go on YouTube and find a video you want to download. Then just copy the link of that video.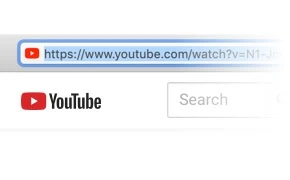 2
Choose your format and resolution
After pasting the link into Airy, choose your desired format and resolution from the drop-down menu.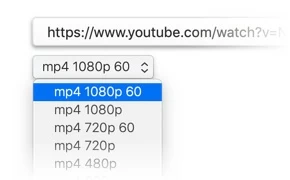 3
Download
Hit the Download button and just like that, your video will start downloading.

Enjoy watching your videos offline!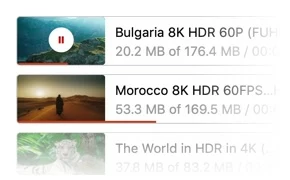 Disclaimer
Airy aims to bring you the best offline viewing experience with video and audio downloading. Your personal videos are for your own enjoyment. However, using Airy to download content that doesn't belong to you isn't something we endorse. If you choose to use Airy for that purpose, then you're agreeing to take full responsibility for any copyright claims or consequences that may arise.
Frequently Asked Questions
Before and after downloading, users sometimes have additional questions about our YouTube MP3 converter software. So whether you've already downloaded this incredible app, or have a few questions on how to convert YouTube to MP3, here's some more useful information for you about Airy.
What others say about Airy

#1 at UtilitiesApplication
Airy
Download YouTube videos & convert video into MP3 format
5
rank based on
889
+ users
Get a download link for Desktop
Submit your email address to get link for quick download and get started!
Requirements:
,
23.1MB
free space
Category:
UtilitiesApplication
Pricing:
Starts from $19.95
Languages:
中文, Český, Deutsch, English, Français, Italiano, 日本の, 한국어, Русский, Español, Nederlands