YouTube Video Downloader for Mac
YouTube has become the go-to app/service for listening to songs and watching new video content instantly. But YouTube is only available if you're connected to the internet or using your device's data. So, what if you're in a situation where you don't have internet/data access and would like to listen to, or watch, your favorite music and/or videos? That's where Airy comes in. Airy is an easy-to-use application that allows you to download audio and video from YouTube, and save these files onto your Mac so you can use them anytime you'd like.
Save YouTube Videos
Download YouTube Videos you Want in Incredible Quality
Put simply, Airy is an application that allows you to easily download, save, and store videos and songs from YouTube onto your Mac devices. Airy's interface is extremely intuitive and easy to use. Airy also allows you to choose the playback quality and resolution of the video file you're downloading. If you're not looking to download a video, and just want the audio, Airy has an option for that, too. Airy can also download multiple files at a time.
Download Full Playlists
Airy YouTube downloader for Mac makes building an offline playlists a very easy and fun activity. Perfect for jogging or flying long distances, a full YouTube music playlist can be downloaded at once so that you have all your favorite tracks in one place.
Extract MP3 music from YouTube
Airy lets you extract music from YouTube videos in case you do not need the whole video but only the soundtrack. Just choose MP3 format from the list of available formats and start the download.
Restricted Videos are Not Out of Reach
When using this YouTube downloader Mac software, there is no video you can't download. Protected videos such as age-restricted ones or private videos can also be downloaded by logging into your YouTube account first.
Save Subtitles from YouTube
You'll be amazed of the level of detail Airy offers when it comes to saving YouTube videos. Not only that you can get audio and video in various formats and resolutions, but you can download YouTube subtitles as well if the video you are getting has subtitles.
SRT format, that is widely supported by most video players nowadays.
Get Entire Channels or Categories
Download in HD and Ultra HD
Take full control over quality with this YouTube downloader Mac software. Choose to watch crystal-clear videos in 4K and 8K resolutions and set the highest standards for your videos. It's all possible with Airy -YouTube downloader Mac.
Save Audio
Download music Tracks and Playlists from YouTube in A Few Clicks
With Airy YouTube downloader for Mac, you get a simple and efficient downloader that can take care of any track or playlist from YouTube in moments. Just locate the video you want to download, select the format and resolution and download everything you need, including playlits or channels.
Pause or Resume Downloads
With Airy you can also manage the downloads and take a break whenever you need. Thanks to its pause and resume function, you can easily pause a running download and resume it later at a more convenient time.
Integrate Airy in Your Browser
This YouTube downloader Mac app is very fast as is, however, you may find yourself in a situation when you find a random video on a site and you want to download it instantly. Well, say no more because you can now integrate it with Safari, Chrome, Opera or Firefox and click on the download button that will be available next to the videos.
Disclaimer
Airy was created to allow you to back up personal video and audio content for offline storing and viewing. If you decide to use the software to back up data that does not belong to you, be aware that you take full responsibility for any copyright issues that may come up.
Using Airy YouTube Downloader is Simple and Intuitive
A straightforward Mac downloader YouTube software, Airy doesn't require advanced computer skills to operate. The user interface is easy to follow and the download process is easy. Here's how you can use this 4K YouTube downloader to save all the videos you want, including YouTube 8K video:
1
Copy the YouTube URL and paste it into the Airy app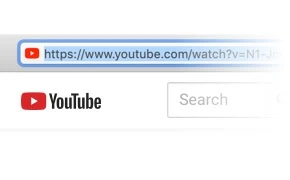 2
Select the preferred format and quality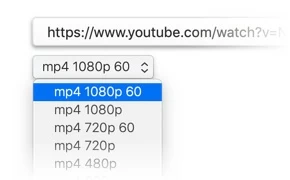 3
Initiate the download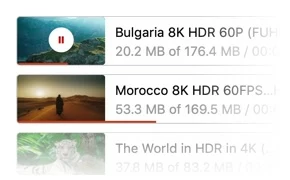 Frequently Asked Questions
Even though Airy is a simple YouTube 4k downloader, with an intuitive design and a very friendly interface, it is natural for users to have some questions about the way this software works. No matter if you want to download YouTube subtitles, use Airy as a YouTube to MP4 converter for Mac or store playlists, these are the most frequent questions users asked.
Check out Some Amazing Articles about the YouTube Environment
What others say about Airy
Airy is an incredible YouTube downloader Mac. You just pate the link and then choose the format you want. MP3 and many other popular formats are there. Quick and easy!
The ability to freeze a video and resume it with this free YouTube downloader Mac app is exceptional. This allows you to complete the downloads whenever is more convenient for you.
Airy YouTube Downloader for Mac is the best software to get YouTube videos on my Mac. Tried numerous Mac downloader YouTube software but nothing compares to the quality and functionality of Airy.
Being able to freely choose the resolution and format for any YouTube video out there make Airy the best YouTube to MP3 downloader for Mac and a strong competitor to other apps in the area.

#1 at UtilitiesApplication
Airy
Download YouTube videos & convert video into MP3 format
5
rank based on
889
+ users
Get a download link for Desktop
Submit your email address to get link for quick download and get started!
Requirements:
,
19.63MB
free space
Category:
UtilitiesApplication
Pricing:
Starts from $19.95
Languages:
中文, Český, Deutsch, English, Français, Italiano, 日本の, 한국어, Русский, Español, Nederlands