Airy – YouTube downloader
Airy is an easy-to-use yet powerful tool to save YouTube videos to your computer. A couple of mouse clicks – all it takes to save YouTube videos – and you can watch them anywhere anytime regardless your Internet connection.
Airy is an essential application to save YouTube videos
How do you watch your favorite YouTube videos if your Internet connection is down? When it is too slow or not stable enough? And what do you do if the video gets deleted or 'becomes unavailable'?
Save yourself a lot of hassle by installing Airy, downloader manager that saves YouTube videos to your computer. Not only the application downloads the videos, but also thanks to its simplicity and efficiency it makes the entire experience of mundane download task actually enjoyable.
How to save videos from YouTube with Airy:
1. Download Airy from this page and install it on your machine. Launch the app.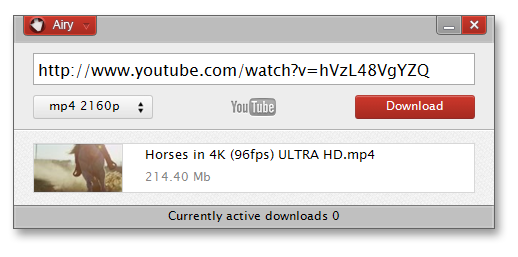 Install Airy
2.Add Airy plugin to your web-browser to download videos directly from YouTube page.
3. Enter the link to the video you'd like to download or use the integrated Airy bookmark for fast adding of the link. Select the file format and resolution and click Download button. You'll see the progress of downloading in Airy window.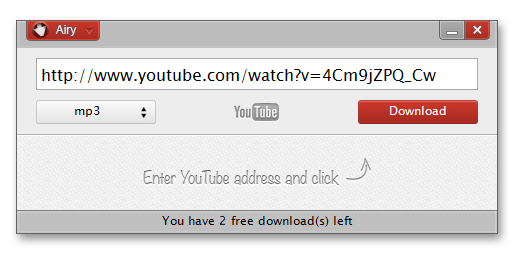 Enter video URL
4. Select the video you want to download , enter its link or use the integrated Airy plugin to download faster. Set the required file format and resolution. Click 'Download' button. The progress bar will show how much of download is complete. If you only need a soundtrack, select MP3 in the dropdown list of formats.
5. Videos will be saved in Airy folder in Downloads . Click Show in Finder button to open the folder with the saved videos.
In case you don't need the video itself, but would like to get its soundtrack, just add the link to the video in Airy and then choose MP3 in formats list.
6. Now you have YouTube video on your hard disk – no need to load it each time you open it.
Airy for Windows
Requirements: Windows XP/2003/2008/Vista/7(32-bit & 64-bit), Windows server 2012 ,
13.74MB
free space
Version
2.1.191
(
03/06/2017
)
Release notes