Airy -YouTube MP3 downloader for Windows
Quite often you find yourself only listening to the soundtrack of your favorite YouTube clips rather than watching the video. So when you decide to download your YouTube favorite, Airy, a YouTube MP3 downloader, is what you need.
Convert YouTube videos to MP3 with Airy for Windows
How many times did you wish you had your favorite YouTube video on your hard drive? Many times, we bet – when your Internet connection was painfully slow and you could not stream, when your favorite video was deleted or all of a sudden became unavailable.
Save yourself a lot of hassle by downloading YouTube videos on your machine with the help of Airy. In case you only need a soundtrack, Airy gives you an option to convert the video into MP3 format. Here we will explain how to do it.
How to convert YouTube to mp3
1.Download Airy from this page and install it on your machine.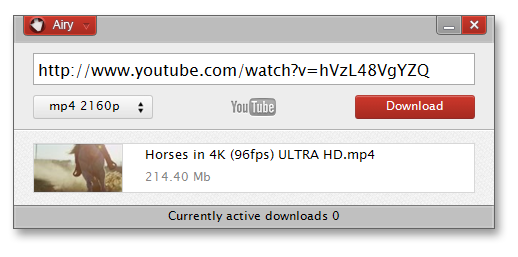 Install Airy on your PC
2.Select a YouTube video you want to download , add its link to Airy, choose MP3 format in the list of formats displayed and click 'Download' button.
3. Add Airy plug in in your web browser : this will allow you to download videos directly from YouTube. Click Airy bookmark and the link to the video from the current page will be added to Airy for further downloading.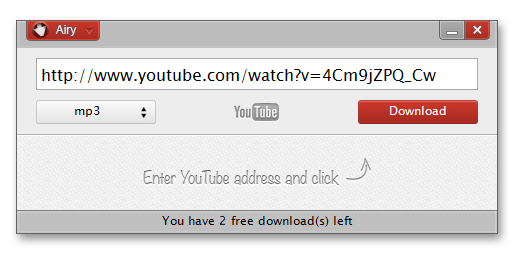 Enter video URL

4. Open MP3
The downloaded MP3 track will be saved in Airy folder in your Downloads. Use Show in Finder option to open the folder with the files saved.
Airy for Windows
Requirements: Windows XP/2003/2008/Vista/7(32-bit & 64-bit), Windows server 2012 ,
13.74MB
free space
Version
2.1.191
(
03/06/2017
)
Release notes