Airy - YouTube downloader
Found a video on YouTube that you just can't live without? Here you will get the detailed, step by step tut of how to download YouTube video, using Airy Downloader for Windows.
How to download videos from YouTube
1. First, download Airy Software from the link above . After installation, run the software.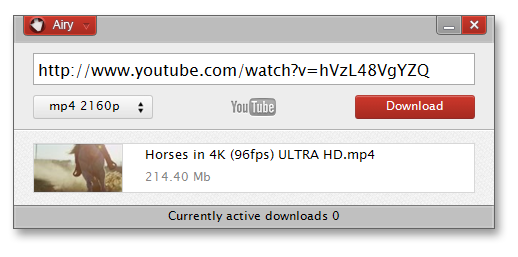 Install Airy on your PC
2. By integrating Airy into your browser , you will have the access to downloading YouTube videos straight from YouTube.
3. Either you paste a link with a video or use the integrated Airy bookmark , both are fast and easy ways to download what you need from YouTube. Click Download after you pick the required file format and resolution. The Airy downloading window will pop up, where you can watch the progress of current downloads.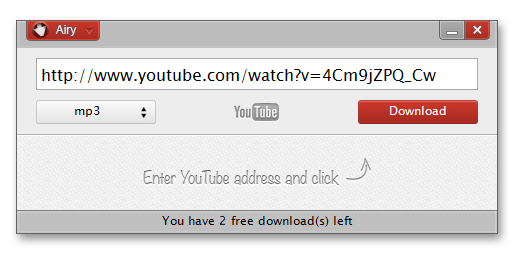 Enter video URL
4. All the downloaded videos are saved in My Documents folder.
There is also an option not to download the video itself but extract only the audio track from it. In such case, you add the link to Airy, choose MP3 from the formats list and the sound is being downloaded..
5. Now you have YouTube video on your hard disk and don't need to load it each time you want to watch it.
Airy for Windows
Requirements: Windows XP/2003/2008/Vista/7(32-bit & 64-bit), Windows server 2012 ,
13.74MB
free space
Version
2.1.191
(
03/06/2017
)
Release notes