Airy - save YouTube videos in HD
Airy youtube hd video downloader combines all the necessary tools in one for your convenience. Now you don't need to use a dozen of different apps to download youtube video HD and extract an MP3 file out of it. Airy is all in one, besides, it is extremely easy to manage it. Read the how-to tutorial below to start working with Airy. Download the application from the official airy website. Install it and run on your computer.
How to download HD video from YouTube
1. To download youtube video hd you simply need to paste the video link to Airy and click Download. But you can go further and integrate Airy bookmark into your web browser. In this way you will be able to download videos right from the YouTube page.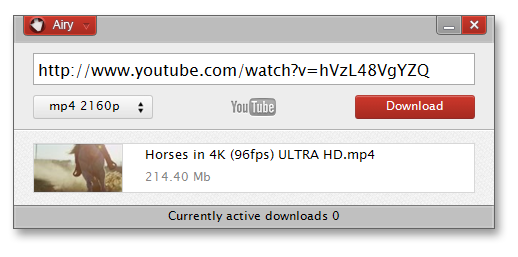 Install Airy on your PC
2. Choose the resolution and file type to download the video. A great advantage of Airy that it allows you to download HD youtube videos so you could enjoy a great quality.
3.After clicking the download button, the progress window will pop up where you can follow the process of downloading.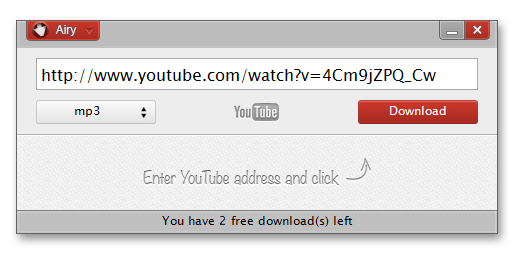 Enter video URL
4. You can also extract MP3 sound out of the video. To do this you need to pick an MP3 format from the list and click Download.
5.All the downloaded files will be stored in Airy folder in your Downloads.
.
Airy for Windows
Requirements: Windows XP/2003/2008/Vista/7(32-bit & 64-bit), Windows server 2012 ,
13.74MB
free space
Version
2.1.191
(
03/06/2017
)
Release notes