4 Methods to get videos from YouTube
Downloading videos from YouTube these days seems to be easy – applications, tools, plugins, web services, tips and tricks on how to get YouTube videos are plenty. The only problem now is how to choose what works best for you. In this post we'll try to help you with that by evaluating a few methods to get YouTube videos.
First, you have to know - whether we are talking about saving YouTube videos on your PC, laptop, smartphone, tablet, iOS, Android, Blackberry or Windows device - it is very easy to get videos off YouTube.
How to get videos on YouTube – a few simple solutions.
Software
The best software solution to get YouTube video we have tested till today is Airy by Eltima. It is simple, yet very functional. Apart from helping you to get YouTube videos, this software solution also enable you to convert videos into other formats.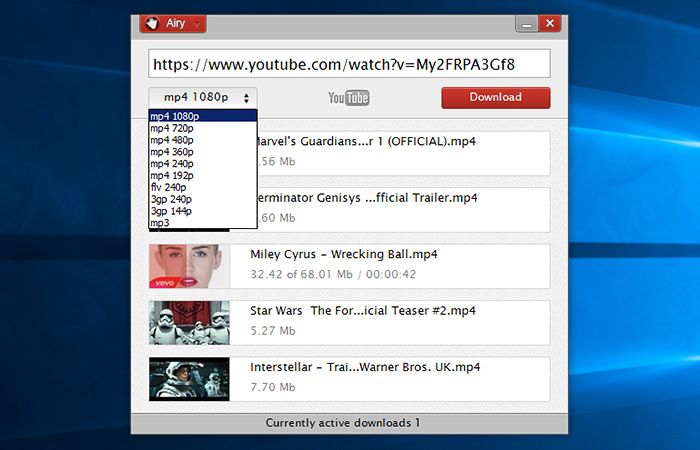 Install Airy
Get YouTube video you would like to download, copy the URL - click the link in the address bar to highlight it, press Ctrl-C to copy it to the buffer, else click thrice in the address bar.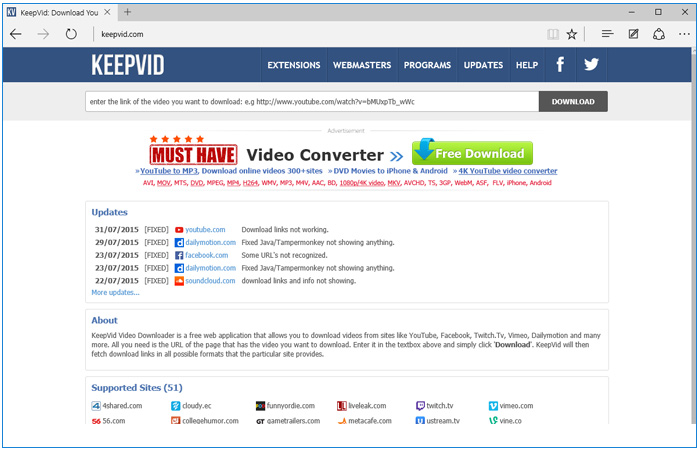 Install Airy
Paste video's URL into the app, select a required format from the dropdown list – Airy supports MP4, FLV, WebM, 3GP. To get audio from YouTube video choose MP3, the app will extract soundtrack from the video. Click Download button, and the download will be complete in a few seconds.
Now let us consider another way of getting YouTube videos – web-services. Let us take KeepVid as an example.
Go to keepvid.com and click in the box to the left of the Download button. Paste a URL to the video you would like to save and click Download. Available versions of the video will be listed below, choose the one you need.
We recommend MP4 for the best compatibility, go for the highest quality – in this case it's 720p. To start the download, click the link – beware of the flashing adverts on the page, these are not download links so make sure to ignore them.
Browser extension
There is one more answer to your 'How to get videos on YouTube' question – browser extensions. We'll take Firefox browser extensions as an example.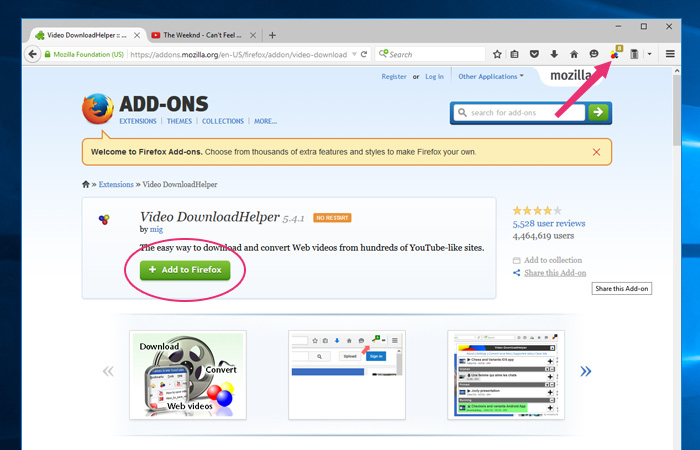 Web-service
To download required extensions click Firefox menu, select "Add-ons", then click "Get Add-ons". Search for "Download Helper" and install it. Open in the browser a video you'd like to save, choose a required format and start downloading.
Please note that this works for Firefox browser, the procedure might slightly vary for a different browser.
Downloading on IOS and Android
You might wonder if there is a way to get YouTube videos on your iPhone, iPad, Android or any other smartphone or tablet without involving your PC, laptop or Mac. Surely, there is. Free apps that can help you with that are available on Google Play and App Store.
All of them work pretty much in a similar way, they include a web browser, where YouTube – or its mobile version – is set as Homepage, or at least bookmarked.
When you playback a video in the browser, a message will pop up asking if you want to download the video. Once you confirm you would like to save it, the download will begin.
Some apps will give you options to name a file, choose the quality or format of download. Downloaded videos will be accessible in a separate tab named 'Files' or 'Videos' in the app. You do not need to be connected to Internet to play them back.
Now you know how to download different videos from YouTube, using one of the methods in the article above.
Airy for Windows
Requirements: Windows XP/2003/2008/Vista/7(32-bit & 64-bit), Windows server 2012 ,
13.74MB
free space
Version
2.1.191
(
03/06/2017
)
Release notes