Airy: The YouTube Video Downloader Firefox Needs
Enjoy your media in HD MP4 or MP3 format
Download entire YouTube channels in a few clicks
Access private and age-restricted videos
Control your downloads with a simple interface
Appreciate movies in 4K or 8K HD resolution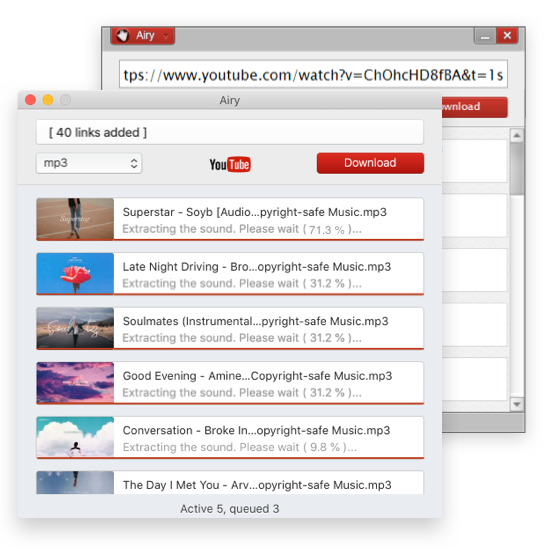 Airy YouTube Downloader
Why is Airy the Best Firefox YouTube Downloader?
Do you find it hard to choose a trustworthy
YouTube video downloader
for Firefox? Airy's got you covered. It has a well-deserved reputation as one of the best apps in its field. No other software matches its perfectly balanced features. With this incredible Firefox YouTube video downloader, it's equally easy to download single files and playlists. Besides efficient batch downloads, it also offers video conversion and audio extraction - playlists can be converted to MP3 right then and there. There are just so many possibilities with Airy.

Full Playlist Downloads with Airy Firefox YouTube Downloader
No one deserves the ardour of downloading playlist videos one at a time. But is there a need to do that? Of course not, if you've got a nice
YouTube playlist downloader
! The Firefox plugin can queue the whole thing in a single click, so that it gradually downloads without any need for your attention.

Choose Video or Audio
Airy allows you to extract sound tracks into MP3 and M4A files. The advantages of this feature cannot be overstated; YouTube is rife with media that is intended for listening, rather than watching. And you can't forget that audio files are several times smaller than a video. Compress music with this Firefox YouTube downloader.

Unrestricted and Unlimited Access
There are many cases where you'd want to back up private, unlisted, or age-restricted content. For Airy Firefox YouTube video downloader, it's never an issue! Forget about limits. No video is locked away forever, as long as you're logged in. Anything you can access, Airy can fetch. This program will deliver with no ifs, ands or buts!

Catch Every Word with Full Subtitle Support
Subtitles on YouTube can be absolutely vital. Whether it's for a foreign language, or an unrecognizable song lyric, you won't even notice them until they're gone. But it doesn't have to be that way - choose Airy, our Firefox YouTube Downloader and you'll get your videos complete with subtitle tracks! It'll be just like on YouTube.

Download Channels Easier Than Ever
Playlist downloads are pretty cool. But, you know what else is a playlist? Channels are. Airy deals with them in a quick and simple fashion. Drop a channel link into the app, and soon you'll have the whole thing downloaded to your hard drive! Look no further than our YouTube video downloader Firefox! Get that full channel experience.

Never Compromise on Video Quality Again
Airy comes with full out-of-the-box support for 4K and 8K resolution videos. Don't worry about quality loss - when requested, every HD video will be brought to you in pristine quality. All's as you'd expect from the best YouTube video downloader for Firefox. If you're into high-fidelity footage, you'll look back and wonder how you got by without Airy.
A Brief How to Guide on Using a Firefox YouTube Downloader
Airy user experience can be described in two words: buttery smooth. This smoothness can be credited to two components: a wonderful, well-designed UI and rich functionality. Look at the steps below and take note - using a Firefox YouTube video downloader such as Airy is no harder than a few clicks.
This is how you get started downloading video and audio:
1
Choose a YouTube video.
Copy the URL and paste it into Airy's search box.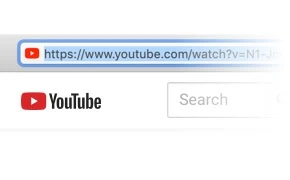 2
Select your format.
There are options for video, audio and different quality levels.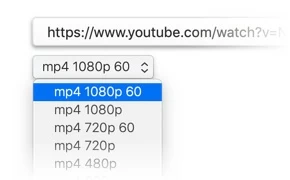 3
Start the download.
More downloads can be queued while you wait. You're all set!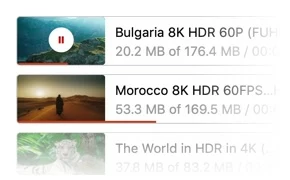 What others say about Airy

#1 at UtilitiesApplication
Airy
Download YouTube videos & convert video into MP3 format
5
rank based on
889
+ users
Get a download link for Desktop
Submit your email address to get link for quick download and get started!
Requirements:
,
23.1MB
free space
Category:
UtilitiesApplication
Pricing:
Starts from $19.95
Languages:
中文, Český, Deutsch, English, Français, Italiano, 日本の, 한국어, Русский, Español, Nederlands