Airy: Firefox YouTube Downloader
Choose from HD MP4 or MP3 formats to enjoy your media
Download entire YouTube channels with a few clicks
Unrestricted download access - private and age-restricted videos
Convenient download controls
Full support for 4K and 8K HD resolutions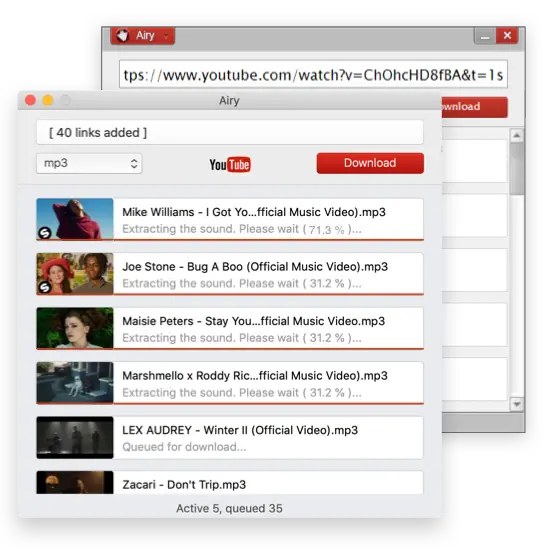 Airy YouTube Downloader
Why is Airy the Best YouTube Video Downloader for Firefox?
So maybe you're using Firefox as your default browser, but can't seem to find a trustworthy and easy YouTube video downloader for Firefox. That's where Airy comes in. Airy is known to be one of the best YouTube video downloaders for Firefox. And that's because no other app offers such a well-rounded experience. With this incredible app, you can download videos and playlists with ease, save time by downloading in batch, or even use it as an MP3 downloader by extracting the audio from any video you like. There are just so many possibilities with Airy.

Full Playlist Downloads with Airy
Nothing's worse than having to download your favorite YouTube playlists one video at a time. It takes too long and forces you to have to sit through the whole process. But Airy makes this process enjoyable and easy for you. With this Firefox YouTube download plugin, you can simply click and choose to download entire playlists at once.

Choose Video or Audio
Airy lets you take control of the wheel by letting you choose your desired format. So whether it's a video or an audio, you can decide. With Airy, you can extract the audio from any video that you like, by downloading in MP3 or M4A audio format. So you get exactly what you want, without the unnecessary video.

Unrestricted and Unlimited Access
No one likes to feel restricted when browsing and enjoying videos online. So you shouldn't feel restricted offline either. That's why you can bet on Airy to make sure you get access to even unlisted and private videos on YouTube. Watch and download them to your computer without any limitations.

Catch Every Word with Full Subtitle Support
It's never fun when watching a video in a different language and you can't understand what's going on. Airy aims to eliminate that from happening to you again. This Firefox YouTube download extension app will download your videos from YouTube, with subtitles so you're never left in the dark again. Enjoy your favorite videos offline just the way you would online.

Download Channels Easier Than Ever
Earlier we talked about the ability to download entire playlists at once, with just a few simple clicks. But what about entire channels? Yup, you can do that too. Pick any channel you like and download every video on that channel. We bet this is easier than anything you've ever tried before.

Never Compromise on Video Quality Again
You'll be glad to know that Airy comes out of the box with full support for 4K and 8K resolution videos. So you never have to worry about video quality loss or subpar results. You can always count on Airy to deliver you the highest quality video and audio every time.
How to Download YouTube Videos using Firefox
It's super simple, as you'll come to see. Airy aims to deliver a superb end result - without neglecting a beautifully thought out user interface and experience. These two critical elements together make for a buttery smooth downloading process.
Here's how you can download your videos and audios right away:
1
Choose your YouTube video.
Find the video you want and copy and paste the link into Airy.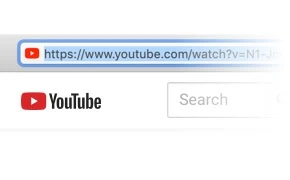 2
Choose your format and resolution
Choose your format (video or audio).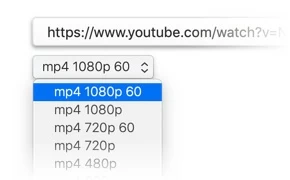 3
Download
Click Download, and you're all set!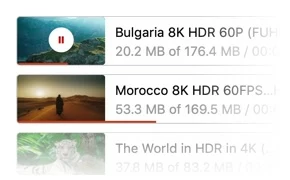 What others say about Airy

#1 at UtilitiesApplication
Airy
Download YouTube videos & convert video into MP3 format
5
rank based on
889
+ users
Get a download link for Desktop
Submit your email address to get link for quick download and get started!
Requirements:
,
23.17MB
free space
Category:
UtilitiesApplication
Pricing:
Starts from $19.95
Languages:
中文, Český, Deutsch, English, Français, Italiano, 日本の, 한국어, Русский, Español, Nederlands