Easy tutorial to download YouTube videos
Ever increasing use of technology and the Internet in daily life has changed the way videos are hosted and shared on the web. The number of video sharing services keeps growing; YouTube however remains unrivalled in terms of popularity and convenience. This largest entertainment portal offers millions of videos where everyone can find anything they are looking for.
The only drawback of the service you'll discover when saving a YouTube video or rather trying to save one. The website does not have a provision for it. The users are expecting the download feature to be added sooner or later.
How to save video from YouTube meanwhile? Let us have a look here at various ways to save YouTube video to computer, so you can figure what suits you best.
Contents
The easiest way
Web-site
Web-browser Chrome
Our favorite way to download youtube video – downloader software Airy
What's convenient about this method is its simplicity. All it takes to save a video on your hard drive is 2 steps:
Download and install the app on your machine. Click link here.
Copy-paste a link to the video into the app, click 'Download'
The app gives you an option to choose quality and format of the video downloaded and allows you to set a sequence of a few videos to be downloaded.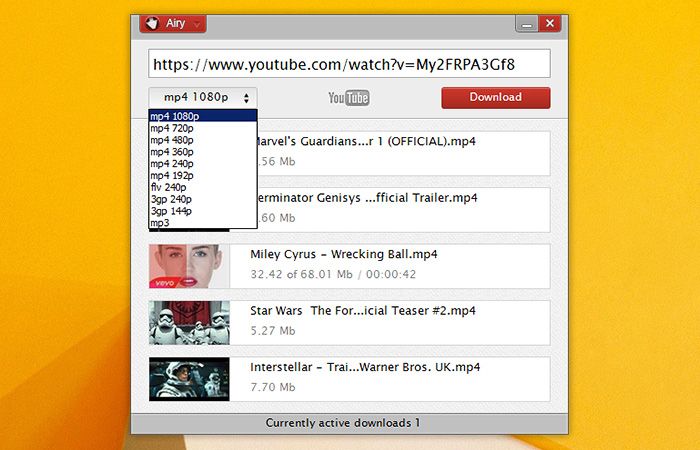 Airy YouTube downloader
How to save videos from YouTube with Airy:
PRO version of Airy offers you a number of additional features for a reasonable fee. They include:
Extracting sound track in MP3 format from a video. You might want to opt for audio recording if, say, the video occupies too much space and listening to your song is what you are happy with. Click MP3 when choosing format of the download.
HD quality videos download, 4K (2160p) included. Download YouTube video HD format is a resource intensive task, Airy however is powerful enough to handle it without hiccups. Formats supported include MP4, WebM, FLV and 3GPs.
Web-browser integration. Airy integrated into your browser means you don't have to copy-paste links into the app, just press Airy icon to download streaming video.
Web-site
This might take a while; however if you are in no hurry, this should work for you. Check it out for yourself.
Here is how you do it:
Unlike Airy, the website will need the source code of a video, not a URL. Right-click on the page with the video open to bring up a menu, choose 'View Page Source'. The code will be displayed in a separate link or a window, select all of it and copy.
Open KIBase web-site, clicking 'YouTube Downloader' option will display an entry field, paste the copied source code there and click 'Submit' button. The download should begin shortly.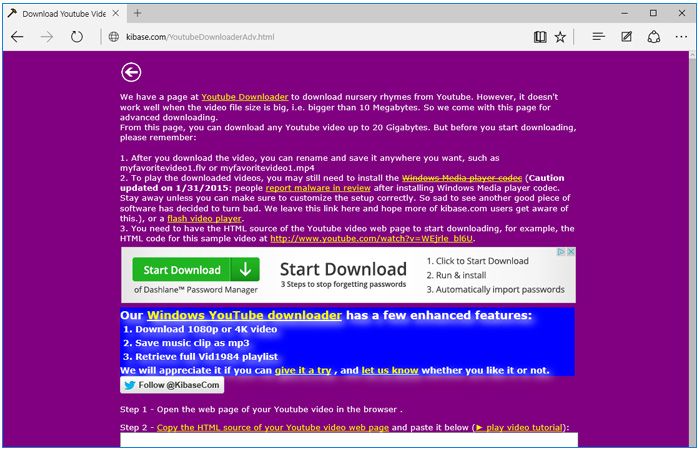 KIBase
Web browser — download with Chrome
What we mean here is actually a browser extension called 'Video downloader' that enables you to download videos. Compared to, say, Airy this is not a very fast YouTube downloader, it takes perhaps the longest to complete the download.
Airy app
Open the browser, click 'Customize and Control Google Chrome' button to your right, select 'More Tools', then 'Extensions'. Scroll to the bottom of the list and click 'Get more extensions. Search for 'Video downloader', and once you find it, click '+ Free' button, then 'Add'. The extension is now added to the browser.
Visit the page with a video you'd like to download. You'll see a new button under the uploader's icon – 'Download', click it to start the download. If required, choose a download format.
Download with Chrome
Now it's all I wanted to tell you about YouTube downloading methods. Choose the best, get favorite videos from YouTube and have fun!
Airy for Windows
Requirements: Windows XP/2003/2008/Vista/7/8/10 (32-bit & 64-bit), Windows server 2012 ,
13.74MB
free space
Version
2.1.191
(
03/06/2017
)
Release notes