Chrome YouTube Downloader
Easily download YouTube videos in any resolution
Download YouTube playlists or channels in video and audio formats
Convert YouTube videos into high-quality MP3s
Download multiple videos at once
Easily pause and resume downloads
Available on Mac and PC
100% safe, secure, and clean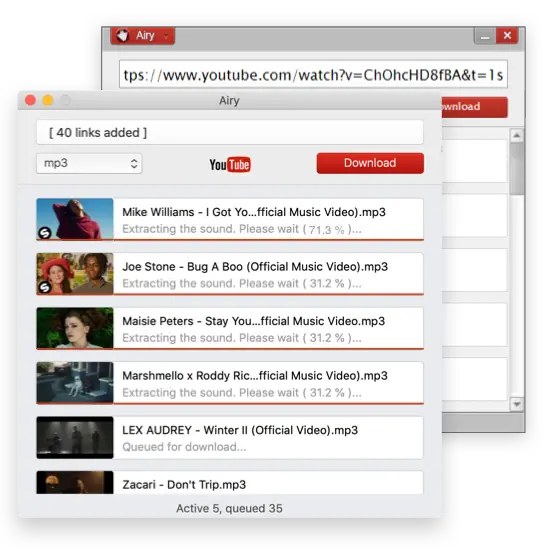 Airy YouTube Downloader
Airy - YouTube Downloader Chrome Extension
If you're a music lover searching for the best possible YouTube video downloader for Chrome browser, Airy is the tool you've been searching for. With other YouTube video downloader Chrome extensions trying to find high-quality MP3s is a chore. And finding a safe and secure YouTube downloader extension- Chrome being full of many buggy options- is a gamble. So we made one of our own. Airy, the YouTube downloader addon Chrome has been missing, finally solves the problem of how to download YouTube videos without any software in Google Chrome.Airy is a Chrome YouTube downloader that integrates directly into your browser. Once the Airy is installed, you press just ONE button, and your link is copy, pasted, and ready for download. The best part?
Airy has a success-rate of 100% on Chrome.

Airy allows unlimited conversions
There's no limit to the number of YouTube videos you can convert using Airy. Use your extension for Chrome, download YouTube videos as MP3s, enjoy your music… 24/7. Not to mention, your favorite videos download in just a few seconds.

Chrome Extension Downloads Full Channels Or Playlists
Not only does Airy save you time by downloading several YouTube videos at once, you can download entire channels and playlists with a click of a button! Freely binge your favorite creators without stressing about bandwidth limitation.

Enjoy Unrestricted Access With Our Chrome YouTube Downloader
No account necessary using the Airy YouTube video downloader from Chrome browsers. Converting videos to MP3s is simple and stress-free. Login to your YouTube account and you can easily download age-restricted content and private videos!

Browser Compatibility
Airy's built-in browser integration let's you copy and paste your YouTube download link with one simple click. And no worries if you're not a Chrome fan… Airy works with Safari, Firefox and Opera too!
Airy YouTube Downloader For Chrome downloads YouTube Playlists in Minutes
Create the perfect playlists and download them in minutes to enjoy whenever and wherever. The Airy YouTube downloader Chrome extension works on both Mac and PC perfectly, so just pick your favorite videos, select your preferred format, and enjoy a high-quality download in just moments. It's that easy.
How To Download YouTube Videos In Google Chrome
Airy understands that video quality and a great UI experience are most important. We've made our Chrome extension so easy to use that everyone can use Airy to download and enjoy their favorite content.
Here's what you need to do:
1
Copy a YouTube URL and paste it into the Airy app.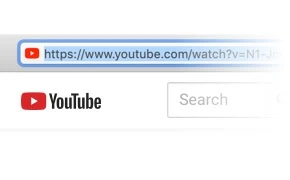 2
Choose MP4, MKV or MP3 format from the drop-down menu.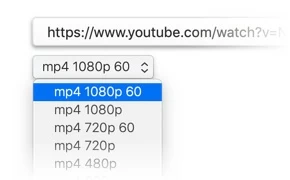 3
Click download.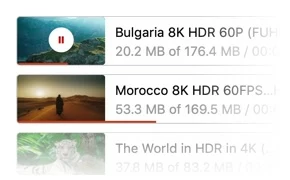 What others say about Airy

#1 at UtilitiesApplication
Airy
Download YouTube videos & convert video into MP3 format
5
rank based on
889
+ users
Get a download link for Desktop
Submit your email address to get link for quick download and get started!
Requirements:
,
23.17MB
free space
Category:
UtilitiesApplication
Pricing:
Starts from $19.95
Languages:
中文, Český, Deutsch, English, Français, Italiano, 日本の, 한국어, Русский, Español, Nederlands